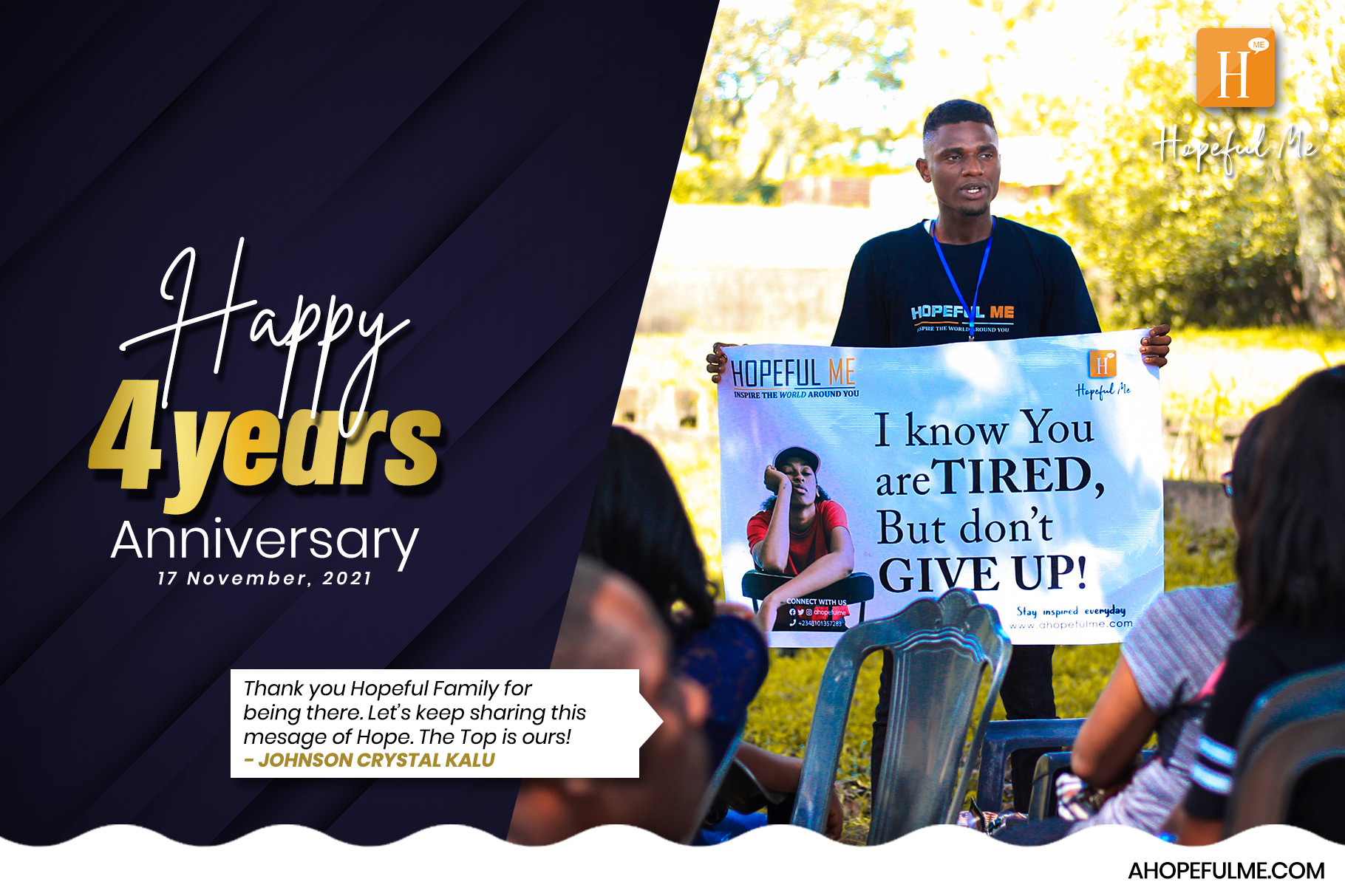 HOPEFUL
ME

4YEARS ANNIVERSARY This little light of ours… we gonna let it shine.
At Hopeful Me, we celebrate our anniversary every 17th November, an as part of our anniversary gift to you, Download for free, a collection of our inspiring HopefulMe Picture Quotes.
click to download (2017 - 2019) Quotes
click to download (2019 - 2020) Quotes
click to download (2020 - 2021) Quotes
---
Happy 4 Years Anniversary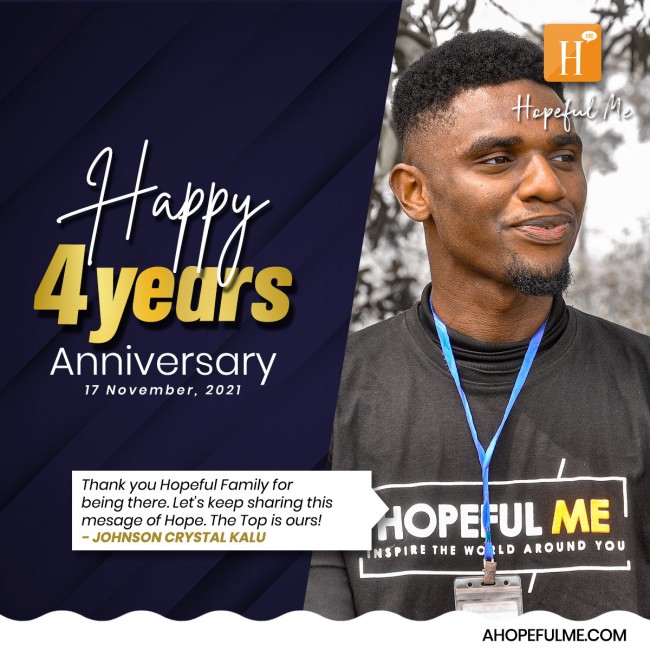 save image
Happy 4Years Anniversary to my one and only Hopeful Family🥺🥰😘. It's been 4 years of sharing this message of Hope, traveling to different cities, reaching out to people and constantly inspiring the world around us. When we started this journey in 2017, I never knew we would get this far but today I'm sure we still have much more better days ahead. ✨ As the founder, I used to think my job is just to write quotes, articles etc and maybe design them. But right now it's way beyond that. Lots of administrative and managerial decisions to make, lots of travelings to do, events to organize, people to work with etc. But it's all part of the process! ✊🏾 Thank you once again for being part of this great course. I know the future has us in God's plan. Let's keep being Hopeful and strong. Happy Anniversary, the Top is ours. ❣️ - J C K (Founder & team lead at HopefulMe)
#Anniversary
#HopefulMe
---
If you wish to support us via donation. We'll appreciate that so we can carry out our projects and events seamlessly.❤ Account Name: HopefulMe Account Num: 0805229253 Bank Name: Access Bank.
---
These years has been amazing. Let's celebrate hope! Please drop a message for HopefulMe on the comment section 👇🏾
---
ALL TIME STATS
Most Active users
Evansmac (
@evansmac
) has (2083.3) points
Makungo Mukundi (
@mukundi
) has (688.2) points
Nwogwugwu Wilson chibuisi (
@wilincs
) has (662.1) points
Neme Swat 😘 (
@swat
) has (601.6) points
---
Highest number of profile views
Johnson Crystal Kalu (
@johnsoncrystal
) has (4687) views
Nwogwugwu Wilson chibuisi (
@wilincs
) has (2011) views
Neme Swat 😘 (
@swat
) has (1752) views
Evansmac (
@evansmac
) has (1351) views
Gideon Ejelonu (
@tipspirationz
) has (1327) views
Ude Chinyere (
@ella_ude
) has (1168) views
GODSHAND P. I (
@starz
) has (1008) views
---
Highest number of Status Updates
David Joshua Egbochuo (
@davidjoshua
) has (922) updates
Johnson Crystal Kalu (
@johnsoncrystal
) has (203) updates
Evansmac (
@evansmac
) has (186) updates
Sen Alozie Chinedu Desmond (
@senator
) has (161) updates
ORJI SAMUEL UCHE (
@sammyyoga
) has (108) updates
Onwumere Godwin Chinemerem (
@esoteric
) has (92) updates
Paul Agwu (
@paul68
) has (87) updates
---
Highest number of photos
David Joshua Egbochuo (
@davidjoshua
) has (263) photos
Johnson Crystal Kalu (
@johnsoncrystal
) has (145) photos
Sen Alozie Chinedu Desmond (
@senator
) has (121) photos
ORJI SAMUEL UCHE (
@sammyyoga
) has (98) photos
Ularinma Amarachi gladys (
@gladys123
) has (69) photos
Paul Agwu (
@paul68
) has (66) photos
Evansmac (
@evansmac
) has (61) photos
---
Highest number of Articles
Gideon Ejelonu (
@tipspirationz
) has (28) Articles
Johnson Crystal Kalu (
@johnsoncrystal
) has (11) Articles
Dheera Agu (
@queendheera
) has (9) Articles
Prince Onwuka (
@dprince
) has (8) Articles
Chinny Ivy Ugwueze-ikonne (
@chinnyivy12
) has (8) Articles
Benjamin Yakubu (
@sirben
) has (7) Articles
John Jane Adaeze Chimdi (
@janeglobal
) has (7) Articles
---
Highest number of Store items
Maria Nkwo (
@mariapeters
) has (19) items
Garny John (
@garny80
) has (8) items
Gospel (
@gos10
) has (7) items
Johnson Crystal Kalu (
@johnsoncrystal
) has (6) items
Evansmac (
@evansmac
) has (4) items
Roseline Kelechi Eke (
@roezie_b
) has (4) items
Okocha Samuel (
@sammyok
) has (2) items
---
Highest number of Followers
Johnson Crystal Kalu (
@johnsoncrystal
) has (3814) followers
Hopeful Miss (
@hopeful_miss
) has (166) followers
Nwogwugwu Wilson chibuisi (
@wilincs
) has (164) followers
Hopeful Chris (
@hopeful_chris
) has (156) followers
Evansmac (
@evansmac
) has (105) followers
Neme Swat 😘 (
@swat
) has (102) followers
Ruby Alichi (
@rubyalichi
) has (101) followers
---
Highest number of following people
Neme Swat 😘 (
@swat
) is following (1159) users
Johnson Crystal Kalu (
@johnsoncrystal
) is following (477) users
(
@
) is following (172) users
Okafor Jnr💞😘 (
@okaforjnr
) is following (136) users
Paul Agwu (
@paul68
) is following (135) users
Nwogwugwu Wilson chibuisi (
@wilincs
) is following (134) users
bishop chukwuemeka Elijah (
@bishop678
) is following (130) users
---
Update with the highest number of likes
9058 has (30) likes
1517 has (25) likes
4336 has (19) likes
1690 has (19) likes
1513 has (18) likes
1512 has (15) likes
4113 has (14) likes
---
User that has Liked highest number of items
Nwogwugwu Wilson chibuisi (
@wilincs
) has liked (7330) items
Johnson Crystal Kalu (
@johnsoncrystal
) has liked (1740) items
Evansmac (
@evansmac
) has liked (1640) items
Onwumere Godwin Chinemerem (
@esoteric
) has liked (1270) items
Neme Swat 😘 (
@swat
) has liked (1243) items
Paul Agwu (
@paul68
) has liked (930) items
Osondu Abigail (
@bigail
) has liked (780) items
---
User that has comented on highest number of items
Johnson Crystal Kalu (
@johnsoncrystal
) has posted (229) comments
Nwogwugwu Wilson chibuisi (
@wilincs
) has posted (170) comments
Evansmac (
@evansmac
) has posted (169) comments
(
@
) has posted (86) comments
Onwumere Godwin Chinemerem (
@esoteric
) has posted (67) comments
Neme Swat 😘 (
@swat
) has posted (56) comments
Osondu Abigail (
@bigail
) has posted (28) comments
---
Highest number of Invitees
(
@Amblessed1998
) has (48) Invitees
Ruby Alichi (
@rubyalichi
) has (42) Invitees
Johnson Crystal Kalu (
@JohnsonCrystal
) has (38) Invitees
Obasi Grace (
@graciouslove
) has (30) Invitees
Oragwuncha Jennifer. M (
@Jennyoras
) has (26) Invitees
Anya Sarah (
@sayrah25
) has (15) Invitees
Johnson Kalu Okorie (
@Johnson
) has (13) Invitees
(
@orjikamara
) has (10) Invitees
Okpara Chiamaka O (
@chammyoc
) has (8) Invitees
Daniel C. Nwankwo (
@bleek_daniels
) has (5) Invitees
(
@moke_001
) has (5) Invitees
Uba Frances Ogochukwu (
@ogoolucy02
) has (5) Invitees
Olajide Paul Victor (
@Pman
) has (4) Invitees
Chisom Orie (
@Sonia
) has (4) Invitees
miracle kalu (
@miclan
) has (4) Invitees
Anwucha Oluebube Mercy (
@emissary23
) has (3) Invitees
Uche Chibuzor Peter (
@peter
) has (3) Invitees
Ehiemere Favour Ezinne (
@Favour
) has (3) Invitees
Ukoha Samuel (
@Sammie
) has (3) Invitees
Thompson Blessing Ezinne Ogbu (
@Blessing22
) has (3) Invitees