HOPEFUL ME
Inspire the World Around You...


Inspirational Social Network - App - Enterprise - Foundation - Tech/Software - Online Store - TV Show/Conference - Blog
---
ABOUT US No matter how cold the world might seem, the message of HOPE is still relevant. So many persons are dying, not because of what they are eating but because of what is eating them. People have lost hope. People are giving up everyday. The world we are in is full of pain, regrets, challenges and hard times. And we may not be able to take them away. But all we can do is to instill HOPE in people's lives. For when there is Hope in the future, there will be power for the present! Even if you have lost everything you have, please don't lose hope. Because it's in hope we can find anew love, joy, assurance, faith and strength. The power we need to fight, survive and live today, lies in the Hope we have for the future. Thank you for being part of Hopeful Me. Our existence is God's gift to our generation!
---
SECTIONS 1-) Hopeful Me Social Network. This is the social section of Hopeful Me. On the online community, you can chat, meet new friends, share photos, write articles, create discussion topics, play games and get contents that are inspiring including Articles, Quotes, Videos, SMS etc. The App is on Play store or you can sign up here www.ahopefulme.com 2-) Hopeful Me Store. On the store, we sell our Hopeful Me T-shirts and other accessories. Also people can publicize their products and services for free on the store and people come to place order for them. We are also building the offline physical store too. 3-) Hopeful Me Technologies. Here, we do software, Web and App development, Graphics designing, Branding, Video editing, Advertisements and other related jobs. Together with our team of developers, we can get these jobs done! And users can also earn from jobs they recommend or refer us to. 4-) Hopeful Me Foundation. This part of Hopeful Me takes care of our outreach programs, community services, donations, charity works etc which includes visitation of orphanage homes, school projects, reaching out to the needy and less privileged, all with the help of God. 5-) Hopeful Me Conference. This section of Hopeful Me organizes our events, seminars, meetings, outings etc. From time to time we will be hosting life changing programs. These events are open to everyone to attend. The contents will include Motivational talks, spoken words and poetry, sermon, talkshows, presentations, music, drama etc Also we have a platform where people can hire our Hopeful Me verified Speakers, Trainers etc for their events. We are also on the course to have our Hopeful Me TV programs/Talk shows too. Mon Dieu est bon.. Hopeful Me is registered with Coporate Affairs Commmison (C.A.C) of Nigeria where the Head Quarters is situated (RC/BN: 2733358)
ANTHEM
For the course we posses. For the knowledge of who we are. For the purpose we've discovered. And for the responsibilities that lies ahead of the future. We have decided to live life to the fullest. Taking charge of life like victors and not living like victims. Being the captains of our life and not the captives of time. Striving through challenges and achieving success. Facing all life's adventure and attaining greatness. Living life with everything and being willing to die with nothing. Dedicating our lives to God and our service to humanity. With all our might, we submit ourselves to this great course we posses. Our existence is God's gift to our generation. You are part of this great course; live a life worthy of your calling.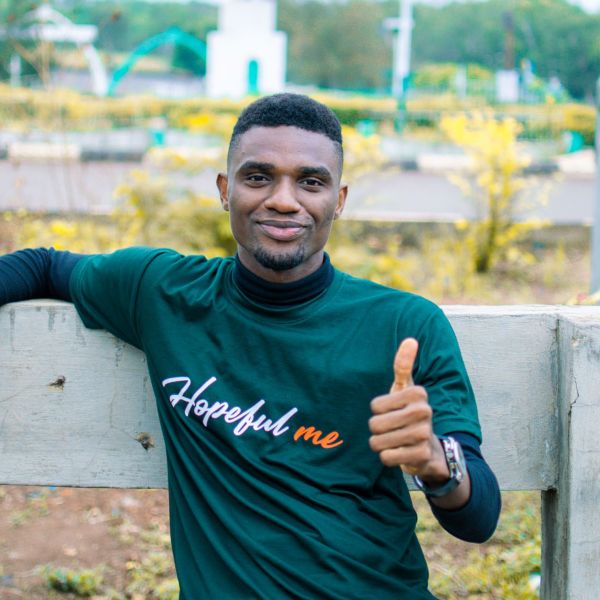 Johnson Crystal Kalu
Meet the Founder, App developer and Lead Graphics Designer at Hopeful Me

www.johnsoncrystalkalu.com
View Profile
+2348101357283